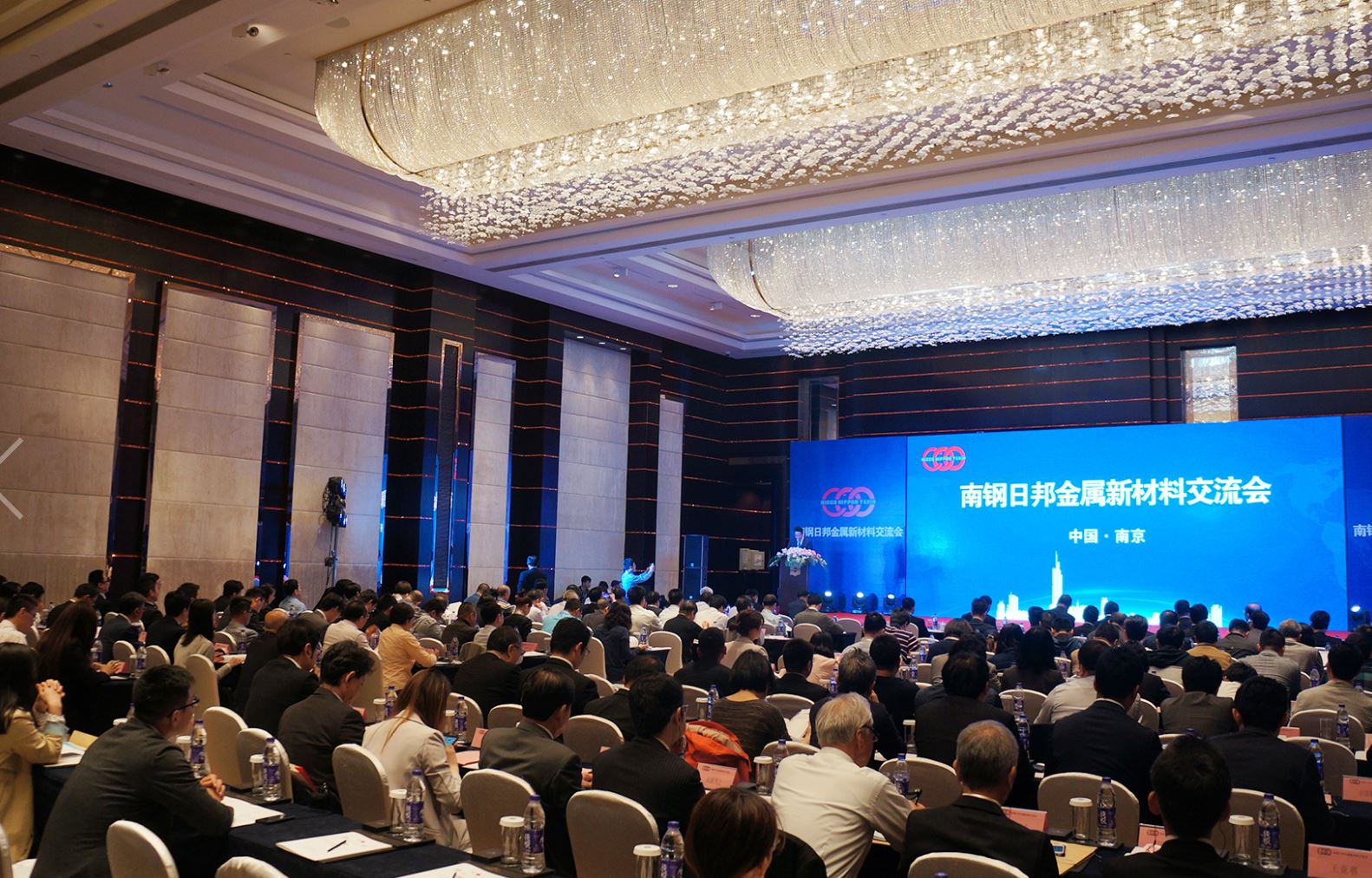 In April 20th, the Nippon Steel Nippon metal new material exchange conference was held. Huang Yixin, Chairman of Nangang, Zhu Ruirong, President; Luo Qun, Full-time Deputy Secretary of the Standing Committee of Nanjing Municipal Committee and the Party and Labor Committee of Jiangbei New Area; Kamei, Chief Consul-General of Japanese Consulate-General in Shanghai; Kimura Shi, President of Japan Metallurgical Corporation; Mr. Yang Xiyao, Chairman of Jiangsu Sanxin Board; and Mr. Yang Xiyao, Chairman of Japan Metallurgical Corporation of Nangang Wang Kun, Director of Material and Equipment Department of Sinopec, Miao Meng, Secretary-General of Jiangsu Petrochemical Equipment Association, Wang Ping, attended the conference with 166 guests from 74 Chinese and Japanese enterprises. The conference was chaired by Lin Guoqiang, vice president of Nangang.
Japan Metallurgical Industry Corporation has a history of more than 90 years, and leading the development of stainless steel industry in Japan with leading technology. Nansteel is China's super large iron and steel complex with the most advanced and high-performance thick plate processing equipment. Jiangsu three Xin special metal material Limited by Share Ltd is a precision metal material manufacturer. In September 2017, Nangang, Japan Metallurgy and Jiangsu Sanxinqiang jointly established Nippon Metallurgical Commerce and Trade (Nanjing) Co., Ltd. of Nangang. The three parties look forward to using this as a platform to collaborate with upstream and downstream industrial chains to pool resources and create a world-leading base for R&D and production of high-performance new metal materials. At present, the duplex stainless steel has been successfully developed. Steel, super stainless steel, superalloy, Yinwa alloy, nickel plate and other five categories of eight brands of products, can produce the world's widest, largest single weight, limit specifications of high-quality stainless steel and special material sheets.
Huang Yixin said in his welcome speech that Nangang will deepen the win-win situation with Japanese metallurgy and seek a new blueprint for development, seek innovative breakthroughs in original and subversive technologies, inject new momentum into the rapid development of new metal materials industry, provide new support for industrial upgrading in Nanjing and Jiangbei New Area, and make economic cooperation between China and Japan. More and more contributions.
Kimura, president of Japan Metallurgical Corporation, gave a warm speech, highly appraising the cooperation between Nangang and Japanese metallurgy, and looking forward to the future of cooperation.
In his speech, Luo Qun introduced the basic situation of Jiangbei New Area in Nanjing, and highly affirmed Nangang's strategic plan to build a composite industrial chain ecosystem in which both iron and steel industry and new industry are mutually reinforcing, and strive to build a leading edge in the new metal material industry. Luo Qun points out that high quality development requires the core technology of high performance materials.
On behalf of the Japanese Consulate General in Shanghai for the first time, Kamei expressed his congratulations on the opening of Japan and the holding of an exchange meeting on new materials in Nangang.
The participants watched the promotional films of Nangang and Japanese metallurgical enterprises. Wang Kun, chairman of Nippon Steel, Nippon Steel, introduces the main products and technical services of the joint venture. Wang Ping, Secretary-General of Jiangsu Petrochemical Equipment Association, Sheng Ye, General Manager of Shengsong Heavy Industry, Zhang Xiaohun, President of Hefei General Machinery Research Institute and other guests were invited to speak.
In response to Zhu Ruirong's acknowledgement, he said that we should focus on customer and strive to create value for our customers. The development of Nippon Steel and Nangang is inseparable from the high level of trust and support from customers. Nangang is looking forward to working hand in hand with our customers to develop new materials products, technology, marketing, service and other areas of renewal, a higher level of in-depth cooperation.